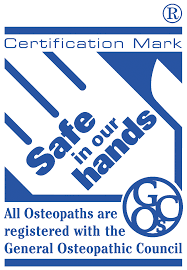 Osteopathy has one of the best safety records of any medically related profession, but no form of medical treatment is ever 100% safe in every case. An Osteopath is trained to recognise any condition that might make Osteopathic treatment inadvisable so that a patient may be referred for appropriate medical intervention when necessary. In the same way that a family physician would regard safety as the most important factor in selecting the appropriate medication for a particular patient, an Osteopath would also select the most appropriate style of treatment with the safety held as the prime consideration.
Are there any side-effects or risks to Osteopathic treatment?
Yes, like everything else in life. Some Osteopathic patients may however experience no side effects at all.
Common: General ache or soreness for 24-48 hours following a positive response to Osteopathic treatment.
Infrequent: Exacerbation of symptoms due to reaction to Osteopathic treatment.
Extremely rare: Serious complications requiring medical intervention.
Upper Neck (Cervical HVT or HVLA) Manipulations:
This leads neatly into 'upper neck manipulations'. A topic that at best is described as "run-of-the-mill". As is often the case, the truth is that a patient has to decide whom to believe as there is no simple answer.
If someone is NOT trained and experienced, then this may lead to trouble. If the practitioner, (Osteopath) REFUSES to manipulate your neck, even if they are trained and you insist upon it, then you are a liability to both yourself and your practitioner. Neck manipulations are exceptionally safe when done by a trained and experienced Osteopath. For example, a woman in the UK has more chance of dropping dead from using the contraceptive pill than suffering a stroke, (or worse) from a neck manipulation. A stroke may be defined as damage to the brain due to interruption of its blood supply either by a small clot or a narrowing/overstretched blood vessel. Symptoms can involve headache, dizziness, confusion, visual disturbance, slurred or loss of speech, difficulty in swallowing and in some cases death. The causes of a stroke are unpredictable and can occur through sudden or extreme end of range positions, for example: Leaning your head back over a basin at the hairdressing salon, coughing, sneezing, turning your head while reversing your car, or any of a number of other day-to-day neck movements.
So how safe are Osteopathic manipulations?
The British health benefits (insurance) company BUPA describes Osteopathy as follows: "There is a general consensus that Osteopathy is less risky in terms of spinal injury because osteopaths usually use less forceful manipulation techniques on the spine."
Add the above quote from BUPA to data from North American chiropractors suggesting that 1 in every 1.46 million chiropractic neck manipulations will result in a stroke, (1 in 1 million women in the UK will die from using oral contraception) and you can see how safe UK osteopaths can be. Experience in these matters is essential and that is where the Sports Injuries Specialist – Registered Osteopath's full-time specific Osteopathic training is second-to-none in England. If a tutor has not been breathing down an Osteopathic student's neck daily for 5 years non-stop, then a practitioner may probably be not as bothered about neck manipulations as Osteopaths are in England. It is also a legal requirement as a Regulated Osteopath to explain the risks of manipulation to a patient. Furthermore, a patient with cervical spondylosis or arthritis should never have their neck "cracked", (manipulated) due to the fact that the fluid in the discs is most likely to be dried up. Twisting, (rotating) the neck, (cervical spine) forcefully may then result in tearing of the disc. This is dangerous!!
The bottom line:
If you have any concerns about neck manipulations, you should refuse them.
If your Osteopath is concerned, he/she has the right to refuse to manipulate your neck, no matter how much of a fuss you create.
If you are concerned with ANY symptoms either before or after Osteopathic treatment, see your physician.
If experienced Osteopathic and chiropractic neck manipulations are as dangerous as some say, patients would be dropping like flies on a daily basis.
Make up your own mind and do not let anyone convince you of something that you are not happy with!
Treatment: Harrow Osteopaths, Wembley Osteopaths, Chelsea Osteopaths – The Sports Injuries Specialist – Registered Osteopath. Regulated: Harrow Osteopaths, Wembley Osteopaths, Chelsea Osteopaths – The Sports Injuries Specialist – Registered Osteopath. How Osteopathy is carried out at Harrow Osteopaths, Wembley Osteopaths, Chelsea Osteopaths by The Sports Injuries Specialist – Registered Osteopath.
If you are in Extreme Pain and require Urgent Treatment, then call the Sports Injuries Specialist – Registered Osteopath for proven results Immediately:
ZAHIR. A. CHAUDHARY, BA (Hons), BSc (Hons), ND, M Ost. Med
EMAIL: emergencyosteopath@gmail.com
WEB: www.sportsinjuriesspecialist.co.uk
24HR MOB: 0792 100 4705
CHELSEA OSTEOPATHS, 208 FULHAM ROAD, CHELSEA, LONDON. SW10 9PJ.
HARROW OSTEOPATHIC CLINIC, 9 LITTLETON ROAD, HARROW, MIDDLESEX. HA0 3SY.
WEMBLEY OSTEOPATHS, 31 NORVAL ROAD, NORTH WEMBLEY, MIDDLESEX. HA0 3TD.
FITNESS FIRST ALPERTON, 197 EALING ROAD, THE ATLIP CENTRE, ALPERTON, WEMBLEY, MIDDLESEX. HA0 4LW.
DAVID LLOYD SUDBURY HILL OSTEOPATHS, GREENFORD RD, EALING. UB6 0HX.